the Movie Club Annals ...


Jurassic Park III

Reviewed by Maaaalgreuxtdtssssssssss G.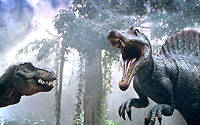 Gymnastic Park III
What a great romp through this historic park, which has become well known for its great big, fierce dinos and fearless explorers. Because the dialogue was so extremely taut, tense, and tantalizing, I will recap the entire script below:
"ERIC!"
"DON'T YELL"
"WHAT?"
"DON'T YELL"
"ERIC"
"I SAID DON'T YELL"
"WHAT DID YOU SAY?"
"DON'T YELL"
"I CAN'T HEAR YOU. ERIC! ERIC! ERIC! ERIC!"
"YELLING ATTRACTS DINOSAURS!"
"WHAT?"
"DON'T YELL"
"ERIC"
(sound of quiet munching)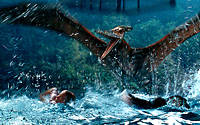 It should be noted that this drama was so action-packed that it took 90 minutes to get out all the words from the script. I highly recommend this film for a Saturday morning if the choices are clean the gutters or watch the movie.
Respectfully submitted, the owner of Movie Club's first Antiques store,

Margaret G.